The following is an extract from the Lethbridge Family Book written by Millicent Lethbridge, the mother of John Guy Baron Lethbridge- Galton and niece of Erasmus Galton, at about the same time that Elizabeth Anne Galton was writing her memoirs (1808-1906).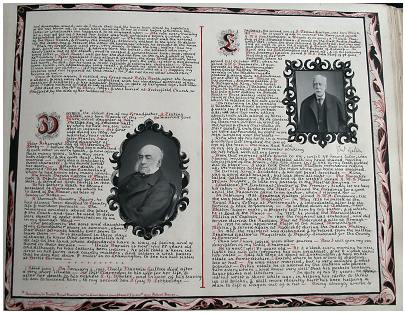 Erasmus, the second son of S. Tertius Galton, was born May 31 1815 – At 13 years of age he entered the Navy,and joined H.M.S. Southampton, a Frigate of 52 guns, a 1st class Flag-ship of Sir Edward Owen, and served on the East India Station until 1832, when the ship returned to Spithead, but was ordered at once to join the English and French Fleet in the Downs and from thence proceed to the Blockage of Antwerp – In April 1833 the Southampton was paid off, and in the following May Erasmus Galton joined H.M.S. San Joses of 98 guns, Flagship of Sir Wm. Hargood where he served till October 1833, when he joined H.M.S. Favourite, 18 gun Corvette, as Mate (the Commander being George Rodney Mundy, serving in the Mediterranean Station and doing duty as Lieutenant for one year to 1836 – Whilst on this service, Erasmus Galton and Mr. R. Fitzgerald King, hired horses one day in Malta, (Valetta) to ride to Civita Vecchia, first changing a bill into silver dollars in Strada Reale – These dollars were the cause of the following misfortune which is related in his own words:
On returning in the evening to Valetta, the roads being narrow and walls say 5 feet high on each side, we saw two men idling about, each with a kind of horse-cloth in his hands – As we cantered by, these men jumped in front of our horses and flung their cloths in their faces, and in a few seconds we were surrounded by eight more men jumping over the walls –
King was off his horse in a moment and with his fist smashed the jaw of one of the men – one man had hold of my leg and coat, and I remember striking at his head with all my force –
From that moment all is blank to me, until 48 hours later, when I found myself in Malta Hospital with my head shaved, having concussion of the brain, two ribs stove in and one of my teeth pushed out of place – I was told that some Maltese merchants riding up, the robbers bolted, except the man whose jaw-bone was smashed.
He turned King's Evidence, and all got penal servitude – King was a good deal bruised, but was soon all right – The Favourite sailed without me, and at the end of six weeks I joined H.M.S. Plover 28 Gun Frigate, to take my passage to the Fleet at Smyrna
Gladstone, 3rd Lieutenant, brother of the Premier, kindly let me have his cabin – On finding the Fleet, I joined the Caledonia for a week until the Favourite came to an anchor, when I rejoined her
In February 1836 Erasmus Galton joined H.M.S. Confiance, till she was paid off at Woolwich – in May 1836 he passed at the Royal Navy College at Portsmouth, and immediately after left the Service and took to farming – He settled down at Loxton, near Weston-super-mare, a property left him by his father, and of which he is Lord of the Manor – in 1852 he joined the Warwickshire Militia as Captain – In 1855 the regiment was embodied, and did service during the Russian War at Aldershot and also at Armagh –
In 1858 he was appointed Major of the second Warwickshire Militia, and served again at Aldershot during the Indian Mutiny.
In 1860 the regiment was disbanded and he retired from the Militia. Erasmus Galton is Magistrate and Deputy-Lieutenant for the County of Somerset –
Thus far I have copied from other sources – Now I will give my own description of my Uncle Erasmus –
He is now (1902) 87 years old – At 3 o'clock every morning he rises, lights his own fire, prepares his own breakfast, and at 6 o'clock wakes his valet – Half his time is spent at Leamington and half on his estate in Somersetshire (Loxton) where he has a sort of shooting-box or hut – he was never married, but is very sociable and most popular – On his estate he is adored by the children who pursue him everywhere, and know very well that his pockets contain sugar plums ad libitum – In spite of his 87 years, he sprained his wrist a short while ago, in helping his carter to throw up 11 lb bricks, and still more recently hurt his knee helping a man to lift a wagon out of a rut – Being strongly averse to funeral pomp, he has bought himself a very plain and cheap coffin, not trusting his survivors to get one according to his taste – Long may it be before it is put any other than its present use, which is that of holding his books! – Uncle Erasmus is fond of reading, especially scientific works, but he has so many pursuits, it is difficult to specify any particularly – of his many acts of kindness, all tinged with a delightful originality – there are too many to relate, so I will here take my leave of him, and proceed to my youngest uncle, Francis Galton –
Added later. In February 12, 1909, my Uncle Erasmus died, aged nearly 94 – His death was occasioned by an accident, having slipped in hurrying to catch a tram. On being lifted up he merely remarked:
Please remember that I wish to be cremated.
It was found that his thigh was broken, and he died some weeks later. He met his end without any fear, his chief care apparently being that of saving trouble to his survivors – He was cremated according to his desire, and his ashes strewn on the garden! He made his nephew Edward Galton Wheler his heir – Without any definite creed, he had a firm faith in GOD and Immortality and he welcomed Death, not only without fear, but with positive pleasure.