The Galton family were first encountered in Dorset in the 16th century, and gradually, through five generations, moved via Hinton St. George in Somerset to Yatton in Somerset, where in 1669 John Galton (1650 -1695), married Bridget, daughter of John Lacey, and widow of John Tucker of Yatton.The descendants of John Galton are displayed on the outlined family tree.
John Galton and Bridget had two sons, the elder died unmarried and the younger John, born in 1671, married Sarah Button of Taunton, on 4 September 1703. John and Sarah had four daughters and three sons. Their only surviving son Samuel (1720-1779), married Mary Farmer, of Bromsgrove, Warwickshire in 1746. They lived at Dudson House in Warwickshire. Samuel and Mary had four daughters and one son, Samuel John (1753-1832), who married Lucy Barclay.
Samuel and Lucy had five sons and three daughters. Their sons were – Samuel Tertius, (1783-1844); Theodore, (1784-1810); Hubert John Barclay, (1789-1864); Ewen Cameron, (1791-1800) and John Howard, (1794-1862). Their daughter Mary Ann married Lambert Schimmelpenick in 1806 and died in 1856; daughter Sophia was married in 1833 and died in 1863, and Adele married John Booth and died 1869.
[Image: Galton family reunion in 1837]Despite the fact that they were Quakers, Samuel (1720-1799) and his son Samuel John had a large gun-making factory in Birmingham. When Samuel senior died his son, Samuel John and grandson, Samuel Tertius wound up the business and set up a bank in Birmingham.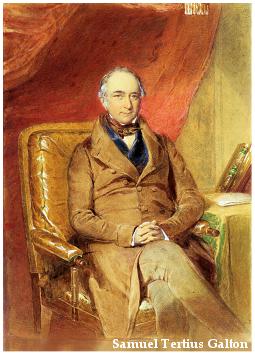 The eldest son of Samuel and Lucy was Samuel Tertius Galton, of Dudson (Duddeson), Warwickshire who married Frances Anne Violetta Darwin on 30th March 1807. They had three sons and four daughters. The eldest son of Samuel and Frances was Darwin (1814-1903). Darwin had three wives, and his only child, a son by his first wife, died when he was nine months old. The second son of Samuel and Frances was Erasmus (1815-1909), who became the Lord of the Manor of Loxton, and the third son was Francis (1822-1911). Their daughters were Elizabeth Anne (1808-1906), Lucy Harriot (1809-1848), Millicent Adele (1810-1883) and Emma Sophia (1811-1904). Elizabeth Anne married Edward Wheler, J.P.(1) in 1845, and they had a son, Edward Galton Wheler-Galton. Lucy Harriot married James Moilliet in 1832 and had children. Millicent Adele married the Rev. Robert Shirley Bunbury in 1845, and they had a daughter. Emma Sophia did not marry.
[Image: Click to download (166K) a larger image of the watercolour painting of Samuel Tertius Galton. Copyright owned by Frank James.]The wife of Samuel Tertius Galton, Frances Anne Violetta Darwin was the daughter of Erasmus Darwin.
Erasmus Darwin married twice. His first wife Mary Howard had four sons and one daughter. Only one son got married, Robert Waring Darwin to Susannah Wedgwood, daughter of Josiah Wedgwood of Etruria, Staffordshire, the pottery manufacturer. Of Robert Waring Darwin's five children the most famous is Charles Robert Darwin, the naturalist and author of "The Origin of Species". Mary Darwin died in 1770 and Erasmus Darwin's second wife was Elizabeth Collier whom he married on 6th March 1781. Erasmus and Elizabeth Darwin had three sons and three daughters, of which Frances Anne Violetta was the eldest daughter.
The fifth son of Samuel and Lucy Galton, John Howard lived at Hadzor House, Worcestershire. He married Isabella Strutt of Derby in 1819 and they had four sons; Theodore Howard, (1820-1881); Douglas Strutt, (1822-1899); Herman Ernest, (1826-1876) and Robert Cameron, (1830-1902). All four sons married, Theodore Howard had four sons. Douglas Strutt had two daughters. Herman Ernest had three sons and four daughters, one of his sons Ralph Abercromby had a son. Robert Cameron had one son and four daughters. His son had no children.
Theodore Howard Galton of Hadzor House, Worcestershire, married Francis Amelia Arthur in 1853. They had four sons, Hubert George Howard, (1854-1928); Compton Theodore, (1855-1931); Howard Douglas Leonard, (1858-1923) and Charles Sigismund born 1860. Hubert Howard Galton had two sons who were both killed in action during the First World War. Neither Compton nor Howard had any children, and the last known Galton in this line was Rev. Charles Sigismund Galton, formerly of Hadzor House, Worcestershire.